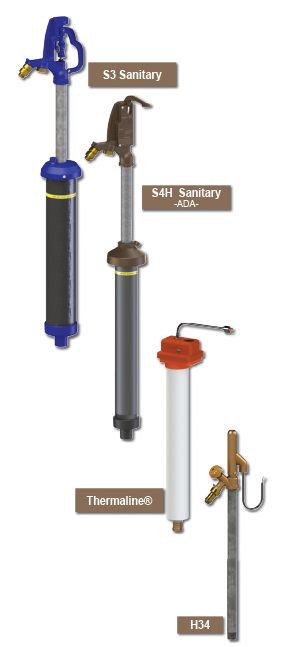 Freezeless, Low Lead, Sanitary Yard Hydrants are designed to produce immediate water flow in sub-zero temperatures.
Specify for use in public areas such as camp grounds and parks or any location where potable water and low lead construction is required
Hydrants are completely sealed to prevent ground water from entering the reservoir or service line
Diverter spout allows independent water flow when hose is attached to backflow preventer
The S4H meets ADA requirements for height and 5 lbs. maximum operating force
The Thermaline®, Low Lead, Sanitary Water Connector is a compact unit especially designed to provide water service to mobile homes in freezing conditions.
Ideal wherever a freezeless sanitary tight line installation is needed, such as, waterers for livestock
High strength plastic casing is insulated with permanently molded and bonded polyurethane foam
15 watt (110-120v) portable insert heater, which costs about a penny a day to operate even at 50° below zero
Wheel handle at surface level shuts off water below the frost line when hydrant is not in use
The Model H34, Low Lead, Sanitary is a non-draining hydrant that features a thermostatically controlled heating element that prevents water in the hydrant from freezing even at temperatures down to 20 degrees below zero.
One foot bury depth closed system design